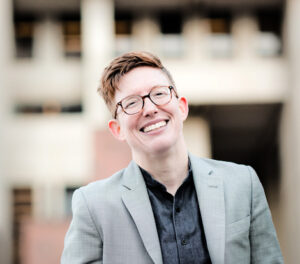 Director of Development
Lispeth Tibbits-Nutt is the Director of Development for 128 Business Council. In this role, Lispeth designs and executes major data-collection projects, both to analyze currently-provided services and to analyze broader regional transportation needs and opportunities.
She also creates educational modules for staff, member organizations, and the public; oversees all public-facing communications and design across multiple communication channels; and project manages many of 128 Business Council's consulting projects, as well as the annual work plans of 128BC's municipal members. In 2020, Lispeth oversaw the research aspect of 128 Business Council's total service reevaluation in response to the COVID-19 epidemic, including liaising with public health and epidemiology experts, and then transforming that expert input into processes that could be effectively communicated to the public within a public transit environment.
Lispeth joined 128 Business Council out of academia, where she pursued a PhD in medieval Arabic-language intellectual history, taught first-year Arabic, and worked in residential life, including work in advocacy and coalition-building. Her time in academia also included pedagogical coursework and research which directly informs her methods of educating transportation stakeholders at all levels.
Lispeth is an active member of the American Planning Association (APA), WTS (Advancing Women in Transportation), and was recognized as one of the Association of Commuter Transportation's (ACT) 40-Under-40 in 2021. She also serves as the Director of Curriculum & Program Development for the non-profit YEP! Youth Engagement Planning, which introduces K-12 students to urban planning and civic engagement.
Prior to her time in higher learning, Lispeth ran a community art gallery, worked at a hedge fund and taught high school mathematics. She is a graduate of Princeton University (AB) and Harvard University (MTS, MA, PhD ABD).