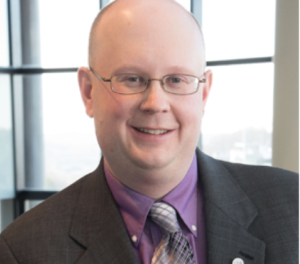 Director of Shuttle Operations
As 128BC's Director of Shuttle Operations, Jeff coordinates all aspects of shuttle service planning, operations management, vendor relations, and communications and outreach with current and potential members and riders.
Jeff has nearly 20 years of experience managing local shuttle services and member relations activities for local transportation management associations (TMAs). He began his career in transportation managing the Waltham CitiBus service, which was then a 5-route intracity bus service in Waltham operated by 128 Business Council from 2001-2003. He then served as Program Manager for Charles River Transportation Management Association (CRTMA) in Cambridge. At CRTMA Jeff oversaw member programs and the EZRide Shuttle system connecting the Kendall Square area of Cambridge to North Station in Boston. During his time with CRTMA, EZRide Shuttle grew into one of the largest private, cooperative shuttle routes in the Boston area, with ridership growing to more than half a million commuters annually. He returned to 128 Business Council in 2016 to manage the now 11-route, 17-bus shuttle service, including The GRID network. During the launch of The GRID (128 Business Council's custom-designed, unified shuttle fleet) in 2018, Jeff provided day-to-day oversight and management.
Jeff is an active member of the Association for Commuter Transportation (ACT) and presented at its 2018 Transportation Demand Management Forum on the development of "The GRID" shuttle system. He also served as Treasurer of the ACT Patriot Chapter from 2010-2015 and was named an ACT "40 Under 40" honoree in 2017. He also previously served as Managing Director of MassCommute, a coalition of transportation management associations.
Jeff is a graduate of Boston College with a degree in Political Science and History.